Your Recreational Vehicle is a source of pride and pleasure – and it cost you a substantial amount of money. So you want to look after it and keep it in tip-top condition.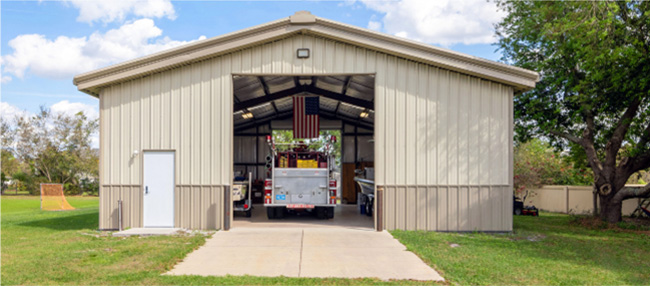 Leaving your RV unprotected outside isn't ideal – the elements, the birds and insects and the pollution won't be kind to the bodywork or its internal workings.
Renting a storage facility is an option -that  leaves you in someone else's hands though – and your precious RV is now entrusted to someone else's care on their premises.
Here's the good news: your own steel RV storage building costs less than traditional buildings and will protect your vehicle from everything mother nature would have thrown at it outside. It's a hugely popular choice for RV owners who want their pride and joy to keep its looks and its functionality. And your own facility means the vehicle is stored on your premises where you can keep a loving eye on it and where you have quick and easy access.
So if you've made your decision and it's going to be a steel carport for your RV then you're bound to have a few questions. Luckily, we at Allied Steel Buildings have some answers! So let's start at the beginning:
RV Steel Buildings:
How do I get started?
First, find out if you can even have a steel building on your property. Check with your local building department and then with your Homeowners Association – if applicable – and find out. The building could be 16 – 18 feet tall so be sure there are no height restrictions on your building.
How big a building do I need?
You need enough height to fit a rollup door that allows your RV to be safely driven into the building. You also want a building height sufficient that you can comfortably get on top of your RV to carry out maintenance. And do keep in mind that however high the rollup doors you need a building whose eaves are at least 2 feet higher because the rolled up doors need that additional space. So 16 feet rollup doors – a popular size for RV owners – require an 18 feet eave height. Make sure you get our advice on heights though before signing anything – height requirements do vary.
How about insulation?
If you're not going to use the building yourself – so it's just for storing your RV – then only basic insulation is needed. Even if people won't work in the building you want to prevent condensation from spoiling your vehicle. So insulate the roof at least – standard white vinyl backed fiberglass insulation is cost-efficient and will do the job effectively. If you think you'll spend time in there – perhaps using it as a workshop occasionally – then consider how it will feel in the summer or winter and then insulate accordingly.
Should I vent?
You need some regular air movement in the building – the air should change from time to time. You can get sufficient air movement if people will be going into the building on a regular basis. On the other hand, if the steel building will not be accessed for weeks on end then it possibly won't receive sufficient fresh air. In which case some ventilation is recommended – and a standard ridge vent will probably do the job.
Will my RV's steel building need its own foundations?
It will. Hire an experienced foundation engineer to design the foundation slab and an experienced concrete contractor to form, pour and finish the slab. A local concrete contractor should be able to supply you with a per square foot estimate.
We say more about steel building foundations here .
How do I erect my RV storage building?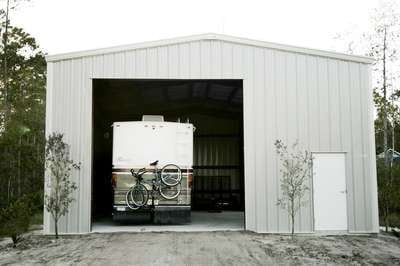 You can erect Allied Steel steel buildings yourself although you might want to hire an erecting crew to carry out the work. Select a crew that has done this kind of work before, that is licensed, insured, and – if you can find them – one that has some factory training.
If you're serious about looking after your RV take a look at our more in-depth Guide For First-Time Steel  Building Buyers .
And there's always an additional question you wanted answering… here's 7 Questions That Everybody Asks About Buying a New Steel Building to help you out!
Allied Steel's metal RV storage options – and metal vehicle garages in general – have come a long way over the last 10 years. Car storage used to look industrial or plain. Not any more.  We now offer designs and finishes that transform your storage into an attractive part of your property – and we can even match some of the features of your home. They're a cost-effective, low-maintenance alternative to traditional wood or brick designs.
Summary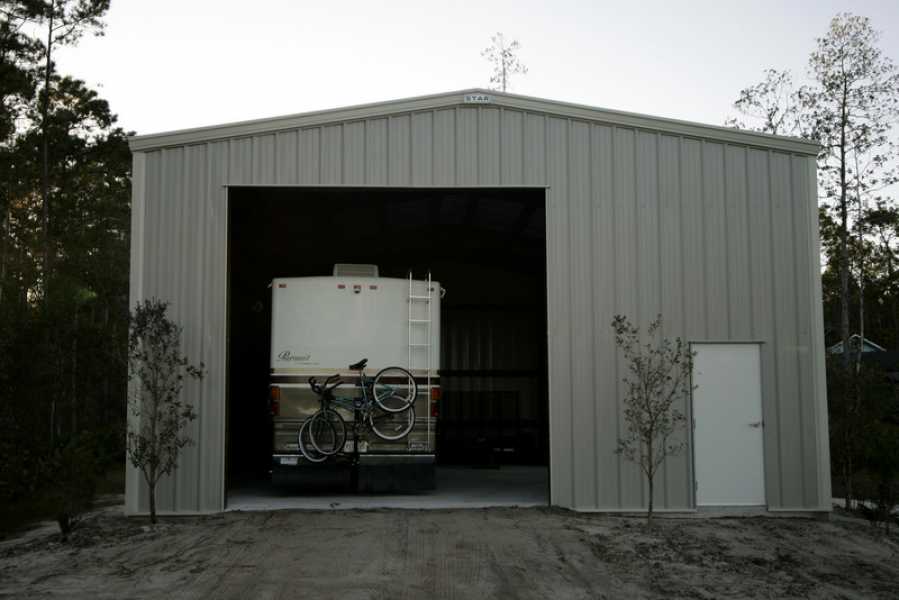 Article Name
RV Metal Buildings: Your Questions Answered
Description
Consider an RV metal building. Your Recreational Vehicle is a source of pride and pleasure - and it cost you a substantial amount of money. So you want to look after it and keep it in tip-top condition.
Author
Publisher Name
Publisher Logo