Multistory Commercial Steel Building Warehouse. Running a successful business is based on numerous factors, timely availability and delivery of merchandise being one of the most important ones. Responding to customer demand on immediate basis was one of the most important factors that led to the development of commercial warehouses. However, as the e-commerce sales boomed over the recent years , single unit commercial warehouses weren't enough to keep up with customer demand. Due to the influx in demand for immediate order fulfillment, retailers started expanding their warehouses as a solution to close the supply-demand gap.
However, this demand collided with the restriction of land usage, which was initially aimed at preventing traffic congestion. Furthermore, the sudden increase in land acquisition affected the availability of land. With the availability of warehouse space in the U.S. hitting record low figures, retailers were left with only one option—opting for multistory commercial warehouses .
Learn more about this shift and Industrial Land Intensification .
So why is it more profitable to switch to a multistory storage unit than acquiring a warehouse in the suburb?
To answer your question, let's consider the example of Amazon's delivery feature. Amazon Prime introduced a free two-hour rapid delivery feature that gained massive popularity among its customers. With Amazon offering free delivery within two hours and a retailer taking 24 hours to deliver a product, it was no surprise that the retail business risked becoming obsolete.
In such a situation, the only way for logistics teams to stay competent was to make sure they weren't wasting their time traveling all the way from suburbs—a major reason why they preferred switching to multistory warehouses.
Multistory warehouses have been in place in Asia for a long time and are now rapidly adopted by US retailers looking for super-sized inventories. With Prologis building the first multistory warehouse in the U.S., these storage spaces are anticipated to be the future of warehousing.
In this article we will discuss:
Multistory Industrial Warehouses
Vertical warehouses are a common sight in Singapore and Japan, as finding vacant land had always been a challenge in these countries. However, rising population and land congestion in the US are now causing local retailers to turn toward multistory warehouse designs.
Here's a glimpse of some Industrial/ commercial warehouse projects that are in construction or have recently reached completion in the US.
Prologis Inc.
The biggest global warehouse owner, Prologis Inc. launched their three-story warehouse project on April 10, 2017, outside downtown Seattle. The design covers 580,000 sq.feet of land and looks like two warehouse buildings stacked on top of each other. Designers have used truck ramps on the second floor to ensure easier navigation. In addition to that, freight elevators are also used on third-floor to assist lighter-scale operations.
Speaking about their design, the company's chief executive agreed that the sole purpose behind this design was to ensure timely delivery of goods as it plays a crucial role in maintaining customers.
Innovo Property Group
A joint venture with Square Mile Capital, Innovo Property Group launched the construction of a two-story warehouse located in Bronx. The project covers 840,000 square feet and was expected to reach completion by 2020.
The company representatives agreed that the sole inspiration behind their design was to ensure speedy delivery by seeking warehouse locations close to the heart of their target population. The developers at Innovo believe that by utilizing the current space, they can increase their storage capacity, without relocating their warehouses. The initial design of the project includes two floors that are 350,000 sq. feet apart, with a ceiling height of 30 feet. With the advanced ramp features on the second story, heavy vehicles can easily maneuver throughout the building.
Goldman Sachs Group
Another business that has adopted multistory warehouses is the Goldman Sachs Group. The Group launched a three-story warehouse project. The design employed the use of truck ramps on the second floor and elevators on the third ones. These elevators are designed to bear heavy traffic, allowing easy movement of forklifts and other load lifting vehicles.
Commercial Benefits Of Multistory Warehouses
Here's why multistory warehouses are the next big thing.
Space Availability
The unavailability of urban land and the skyrocketing rental bills often left retailers with no choice than to move their warehouses to a rural location. This significantly affected the performance of their supply chain. With road congestion and long routes, their supply rates almost deduced to half.
However, all these issues can be resolved by building a multistory commercial warehouse. Retailers can utilize their already-existing urban warehouses to build additional storage spaces, thus saving the hefty investments made in the name of building rent.
Ease of Delivery
The sudden surge in e-commerce sales has resulted in a sky-high demand for retail goods. The only way for a company's logistics to keep up with the competition is by ensuring speedy delivery—a factor that's significantly dependant on the availability of land.
With a multistory warehouse, you can make the most of your purchased land and have a multistory storage space built in the city center. It can significantly save your delivery time—a delivery truck that typically took 8–10 hours to travel all the way from a rural location can now reach the delivery point in a comparatively shorter duration.
Easier Management
The optimum performance of a commercial warehouse significantly depends on its management. For this reason, a commercial entity pays adequate attention to quality control, packaging, and delivery staff.
Operating two different warehouses requires you to employ separate labors for their monitoring, thus increasing your labor cost. With a multistory warehouse, a single staff can monitor both stories, saving your commercial budget.
Expanded Product Range
A manufacturing process requires the use of several raw materials that a facility collects from different suppliers. Instead of supplying a single raw material to a manufacturing facility, you can diversify your product portfolio by supplying an entire range of products for your suppliers.
Consider an example of a manufacturing facility that deals in the processing of cotton, silk, linen, and leather apparel. With a multistory storage space, you can use the additional space to store other clothing materials. Instead of traveling to five different suppliers for the collection of raw materials, the company can collect all their materials from you—this saves their time and increases your profit.
Compact Storage
A successful supply chain operation isn't only dependent on adequate storage units—security and operational performance also play a significant role in running an optimized supply chain.
Apart from being a burden on your commercial budget, operating multiple warehouses is also a challenge in terms of security. As a retailer, keeping track of the product quality and sales becomes a bigger challenge when it's expanded to multiple locations. With multistory warehouses, you can maintain a compact storage unit, thus simplifying the regulatory process.
Easier Navigation
In addition to being a space-efficient storage solution, multistory warehouses are the future of supply chain management. With advanced technology and state-of-the-art machinery, these designs are simplifying the product dispatch and navigation process.
One such technology includes the use of truck ramps and elevators that allow the movement of trucks and heavy machinery throughout the property. In addition to optimizing your distribution processes, these features significantly reduce risks associated with the manual handling of loads.
Load lifting and handling have always been a concerning factor for commercial facilities, often resulting in catastrophic incidents. Not only does it damage the organization's reputation, but it can also result in severe penalties. By using these advanced features, you no longer need to worry about worker safety—your multistory warehouse already ensures that!
Multistory Warehouse Parking
Multistory warehouses aren't only used for optimizing your supply chain management. They can be used as multistory warehouse parking to avoid traffic congestion and increase the availability of parking spots near your facility.
In fact, a similar project is under construction near the John F. Kennedy International Airport. Airports often suffer from high traffic inflow with limited parking spots, often resulting in back-over accidents and collisions. To combat this issue, designers and civil engineers are developing three-story warehouse parking facilities to accommodate for heavy traffic without risking congestion.
Premium Rental Rates
With the rising land crisis, commercialists started turning toward rental warehouse locations as their backup storage units. However, this couldn't continue as rental bills skyrocketed and began costing the facilities way more than their earned revenue.
A multistory warehouse resolves this issue by eliminating the need for renting storage space. Instead of spending thousands of dollars for rental bills, you can make a one-time investment in the construction of a multistory warehouse facility, saving yourself from these monthly recurring costs.
Stylish Design
By utilizing stylish construction materials like glass and stucco and accessories , these multistory warehouses add to the curb appeal of your commercial facility. In addition to that, you can place attractive signage on your multistory building to guarantee visibility for your organization or facility.
Design Factors To Consider
If you're a retailer seeking a solution to optimize your supply chain management, investing in a multistory warehouse is a viable commercial solution. However, building a commercial warehouse isn't all that it takes to improve your performance efficiency. A functional design plays a significant role in the success and failure of your building design . Before commencing your multistory warehouse project, here's a list of factors to keep in mind.
Accessibility
When designing a multistory warehouse, it's important to keep in mind that your design doesn't hamper the circulation and navigation of products. While installing elevators and truck ramps, ensure they don't collide with pallet rocks and lifting tables in your facility.
Your multistory space should be organized in a way that doesn't hinder the navigation of pallet racks, thus ensuring hassle-free dispatch of products from the facility.
Compliance with Building Codes
All commercial facilities are required to follow the International Building Standards of 2009 or higher, to ensure the safety of their employees and property. According to these standards, any storage unit that exceeds three stories should be constructed with a fire-rated structure.
This means that while constructing a multistory building, you can't use structures like light-gauge framing, as fire proofing such structures is quite difficult. The alternative building solution involves the use of the heavy steel-frame building with proper fireproofing.
Personnel
The number of employees in your facility decides your facility's operational capacity. Before designing a multistory warehouse, it's important to ensure that your warehouse has the adequate staff to operate the storage unit. If you're planning on automating your warehouse, make sure your staff knows how to operate the machinery.
And while opting for a multistory warehouse is a far more feasible option than other warehousing solutions, it still needs an efficient staff to ensure smooth operating. For this reason, you need to conduct a thorough survey to ensure you have sufficient staff for operating a multistory building.
Visibility and Signage
Designing a space-efficient solution doesn't require you to compromise on your facility's curb appeal. This brings us to another essential building consideration—ensuring visibility while maintaining aesthetics.
Warehousing facilities often use roll-up glass doors on their front entrance to add a sophisticated look to their facility. However, there are localities where the use of glass doors in storage units is prohibited by the governing authorities. Be sure to check the local codes before you add this feature to facility. In addition to installing roll-up doors, you can install accent lights to ensure visibility during night.
Location and Budget
The number of stories in your warehouse depends on your warehouse location. If you're operating a facility in a location that doesn't allow the building of more than two floors, you'll have to limit your warehouse expansion to a two-story building. Check the local building codes before commencing your warehouse construction project.
Conclusion
With the rising trend in trade and commerce, the only way for commercial entities to maintain their demand and supply equilibrium is by ensuring the availability of products.
However, increased number of warehouses leads to the increased number of delivery trucks, which ultimately takes a toll on the traffic flow. To combat this issue, the city management has defined a limit to the number of warehouses allowed in an urban location. Furthermore, the recent land crisis has resulted in a remarkable reduction in land availability, resulting in exponential rental bills.
In such a scenario, the only solution left for commercialists is to make use of their already-existing commercial spaces, leading to the need for multistory commercial warehouses.
Simply put, a multistory commercial warehouse is your solution to the ever-increasing land crisis. You no longer have to relocate your warehouses in rural locations or far off suburbs; you can effectively utilize the space of your already constructed warehouse.
Not only do they optimize your land productivity, but they're an effective solution to optimizing your supply chain management as well, allowing you to easily keep track of your workers' performance with a compact storage space.
This doesn't end here; you can make the most of this innovative technology by incorporating truck ramps and elevators to allow easy navigation of heavy vehicles throughout your facility, reducing the risk of manual load lifting. With stylish construction designs and signboards, you can create a warehouse that stands apart from other commercial properties and is bound to create an impression on the customers passing by.
With more and more projects being introduced in the US, multistory warehouses are becoming the future of logistics and supply chain management. However, the success of a multistory warehouse depends on the proper execution of its design.
By following the building codes and standards and keeping the aforementioned considerations in mind, you can continue to operate your multistory warehouse in the city center, ensuring timely deliveries and staying ahead of your competitors.
Summary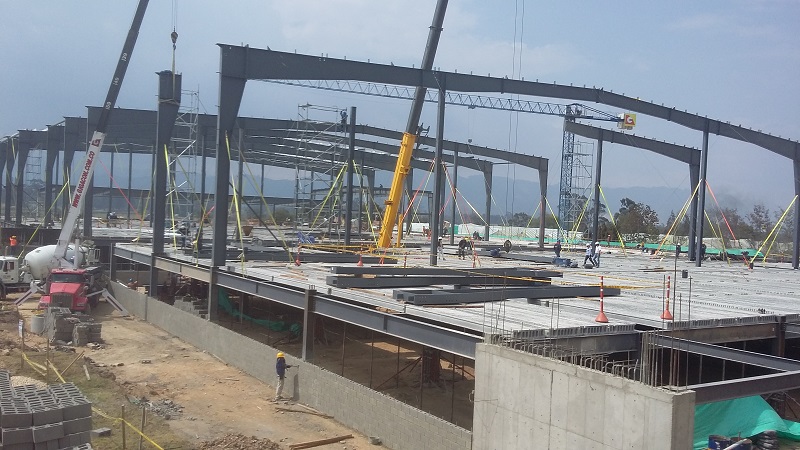 Article Name
Multistory Commercial Warehouses
Description
Multistory warehouses have been in place in Asia for a long time and are now rapidly adopted by US retailers looking for super-sized inventories. With Prologis building the first multistory warehouse in the U.S., these storage spaces are anticipated to be the future of warehousing.